November 7, 2023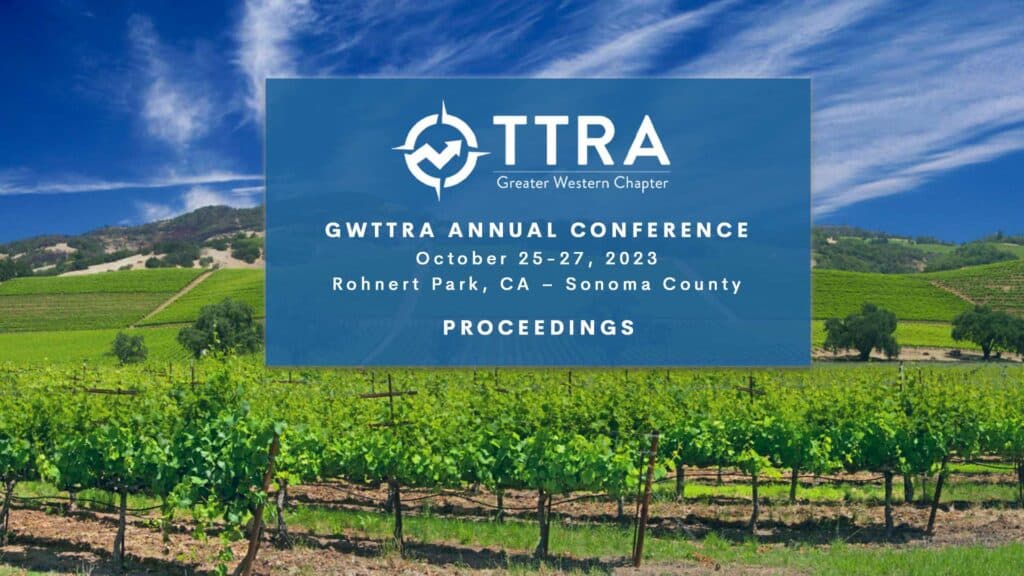 The 2023 Greater Western Chapter of the Travel & Tourism Research Association (GWTTRA) Annual Conference, held from October 25 to 27, 2023, in Rohnert Park, Sonoma County, California, recently concluded under the theme 'More than Data: Positive Vibes, Positive Impact.' The event featured pivotal sessions and esteemed speakers shedding light on vital aspects of the travel and tourism research industry.
Key Sessions and Speakers:
Economic Impact and Consumer Behavior in the Western U.S.
Speaker: Dr. Robert Eyler, President, Economic Forensics and Analytics, Sonoma State University
Details: Dr. Eyler explored the economic impact within the Western U.S., addressing changes in consumer behavior post-pandemic and the subsequent effects on the travel and tourism sector.
Expanding Horizons of Tourism Economy
Speaker: Nathan Kelley, Director of Research, San Diego Tourism Authority
Details: This session, led by Nathan Kelley, delved into how tourism is not confined solely to leisure and hospitality but extends to various sectors, such as IT, finance, and transportation, contributing to the broader economy.
Emotional Branding in Destination Marketing
Speaker: Heather Huckeba, Director of Research and Strategic Insights, Visit California
Details: Heather Huckeba discussed the evolution of emotional branding in Visit California's marketing strategies, emphasizing how emotional connections impact destination marketing's success.
Presentation 1 of 2 Link (PDF)
Presentation 2 of 2 Link (PDF)
Travel Impact of National Parks and Public Lands
Speakers: Kara Grau, Assistant Director of Economic Analysis, University of Montana's Institute for Tourism and Recreation Research; Jeremy Sage, RRC Associates, Tourism & Recreation Economics Specialist
Details: Kara Grau and Jeremy Sage analyzed the impact of national parks and public lands on tourism, exploring economic benefits and challenges related to visitor management.
Presentation 1 of 2 Link (PDF)
Presentation 2 of 2 Link (PDF)
Trends in Beer, Wine, and Cannabis Tourism
Speakers: Brian Applegarth, Founder, Cannabis Travel Association International; Matthew Stone, Ph.D., Associate Professor of Marketing, California State University, Chico; Anna Blount, Vice President of Research, Longwoods International
Details: This session highlighted recent trends in beer, wine, and emerging cannabis tourism, presenting data-driven insights and consumer behavior patterns in these industries.
Presentation 1 of 3 Link – Applegarth (PDF)
Presentation 2 of 3 Link – Stone (PDF)
Presentation 3 of 3 Link – Blount (PDF)
AI's Influence on Destination Marketing Operations
Speakers: David Bratton, Founder, Future Partners; Will Seccombe, Head of Travel and Tourism, Intentful.ai
Details: David Bratton and Will Seccombe explored the application of AI in destination marketing, discussing how AI technologies are reshaping operational strategies and enhancing visitor experiences.
Impact of Live Events on Communities
Speakers: Graham Gee, Research Manager, Visit California; Cindy Decker, Sr. Manager Client Relations & Insights, Tourism Economics; Caroline Wu, Director of Research, Placer.ai
Details: This session focused on understanding the impact of live events on communities, analyzing the economic and social implications of hosting events and their contribution to community development.
Presentation 1 of 3 Link – Gee (PDF)
Presentation 2 of 3 Link – Decker (PDF)
Presentation 3 of 3 Link – Wu (PDF)
Destination Management Insights
Speakers: Claudia Vecchio, President/CEO, Sonoma County Tourism; Carl Ribaudo, President and Chief Strategist, SMG Consulting; Cathy Ritter, Founder, Better Destinations
Details: These speakers discussed strategies and insights related to destination management, including sustainable tourism, regenerative practices, and effective destination development.
Presentation 1 of 3 Link – Vecchio (PDF)
Presentation 2 of 3 Link – Ribaudo (PDF)
Presentation 3 of 3 Link – Ritter (PDF)
Academic Research Showcase
A panel of esteemed researchers presented their academic work on various topics, including workplace climate analysis, cannabis restaurants, robotics in hospitality, innovative tourism products, food traveler segmentation, and more.
From Pandemic to Endemic: A Comparative Analysis of Workplace Climate in the U.S. Hospitality Industry (Presentation PDF)
Dr. Chun-Chu (Bamboo) Chen, Assistant Professor, Washington State University
Considering Cannabis Restaurants: Identifying Important Facets of the Diner Experience & Avenues for Future Research
Dr. Alana Seaman, Associate Professor, University of North Carolina Wilmington
Worker-robot collaboration in hospitality tasks: Revealing robotic integration opportunities through image analytics.
Dr. Pei Zhang, Assistant Professor, California Polytechnic State University-San Luis Obispo & Dr. Ningqiao Li, Assistant Professor, University of Houston
The original sea wine technique: Respect for the territory and innovative tourism product (Presentation PDF)
Giovanna Bagnato, Visiting Researcher, Sonoma State University
A Simplified Approach to Food Traveler Segmentation (Presentation PDF)
Dr. Matthew Stone, Associate Professor of Marketing, California State University, Chico & Dr. Ismael Castillo-Ortiz, Anáhuac University
Creating The Tastiest Culinary Tourism Study Abroad Experience for Students Through a Flipped Classroom Adventure! (Presentation PDF)
Dr. Christina Minihan, Assistant Professor, Colorado State University
The 2023 Greater Western TTRA Annual Chapter Conference was an invaluable platform that brought together experts and industry leaders, providing a rich array of thought-provoking sessions and expert insights. Delving into diverse facets of travel and tourism research, the conference offered a comprehensive view of evolving trends, innovative strategies, and the emerging landscape within the industry. Each session, led by accomplished professionals, contributed nuanced and valuable perspectives on the future of travel and tourism research.
As the conference concluded, attendees were equipped with new insights, actionable strategies, and a deeper understanding of the sector's trajectory. For those eager to remain at the forefront of industry developments, staying updated on the TTRA website will ensure continued access to comprehensive coverage and upcoming event details, fostering ongoing engagement and learning within the dynamic realm of travel and tourism research.
We extend our heartfelt gratitude to all supporters, partners, sponsors, and attendees for contributing to the success of the 2023 Greater Western TTRA Annual Conference. Your unwavering support and active participation made this event an enlightening and engaging experience. Thank you for being an integral part of our journey towards shaping the future of travel and tourism research.
Thank You to Our Sponsors