February 28, 2022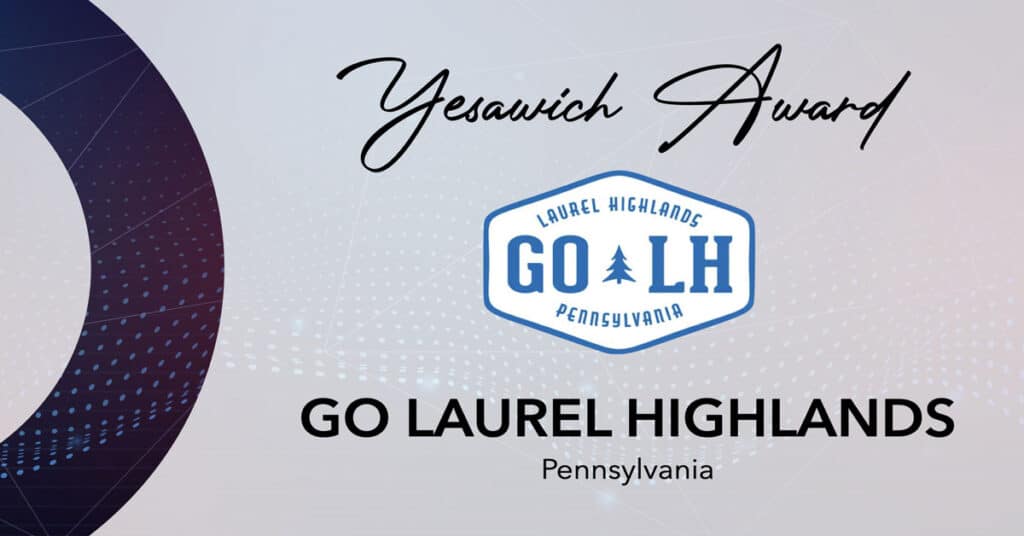 GO LAUREL HIGHLANDS
Kristin Ecker, Senior Director of Marketing, GO Laurel Highlands
MMGY Global announced the Yesawich Award For Marketing Excellence at the 2022 Marketing Outlook Forum Conference. This award recognizes excellence in either a Marketing Manager/Director or a Destination Marketing Organization (DMO).
This award is presented to a DMO and highlights the tireless work of a marketing organization to understand the market and target audience, then promote and measure travel and tourism of their destination. This includes the discovery of an imaginative or innovative marketing program or campaign and judging how its success was measured.
Excellence is defined as having created an outstanding marketing strategy based on relevant data and research resulting in a superior marketing effort with significant, measurable results.
Established in 1958, GO Laurel Highlands is the official destination marketing organization for Fayette, Somerset, and Westmoreland counties in southwestern Pennsylvania. A magnificent mountainous region, the Laurel Highlands spans 3,000 square miles and is located an hour's drive east of Pittsburgh. The beautiful four-season destination offers spectacular natural scenery, outstanding outdoor recreation, historic sites and attractions, family activities, and world-class resorts. Pennsylvania's Laurel Highlands is home to four architectural masterpieces by Frank Lloyd Wright – Fallingwater®, Kentuck Knob, Mäntylä and Duncan House – Nemacolin, downhill skiing at Seven Springs Mountain Resort, Flight 93 National Memorial, Idlewild and Soak Zone amusement park, whitewater rafting in Ohiopyle State Park, and more. First launched in 2019, the Laurel Highlands Pour Tour has become a highly sought-after, incentivized craft beverage trail drawing in visitors from across the mid-Atlantic and serves as a catalyst for significant economic impact in the region's communities. CONGRATULATIONS GO LH!