August 8, 2023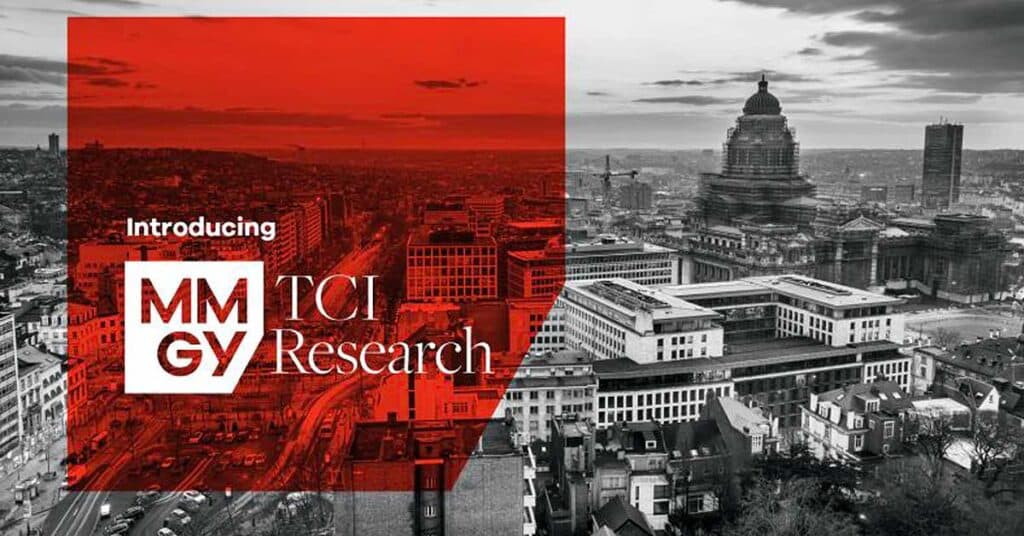 MMGY Global Expands European Operations with Brussels-Based Research Company
MMGY Global, the world's leading integrated travel and hospitality marketing firm, announced today that it had acquired TCI Research, a data intelligence group specializing in the travel, tourism, and hospitality sectors. Now known as MMGY TCI Research, the organization further enhances MMGY Global's travel intelligence capabilities while strategically expanding its European footprint with offices in Brussels and Paris.
Founded in 2010 by industry veteran Olivier Henry-Biabaud, TCI Research now touts 1.2 million euros in annual net revenue as well as an international client roster of more than 150 travel organizations, ranging from destinations such as France, London, and Aruba to well-known attractions like Disneyland Paris. Its popular and proprietary research products include three separate TRAVELSAT© Solutions that benchmark tourism competition, monitor live and historical social reputation data, and measure resident sentiment through conventional surveys and curated big data integration.
TCI Research also provides the data and insights that power industry dashboards and reports for leading European destination management organizations (DMOs), including a Long-Haul Travel Barometer for the European Travel Commission and reputation analytics for the City Destinations Alliance (City DNA).
"Better serving the needs of our global clients has always been the true north in continuing to build our company platform," said MMGY Global CEO Katie Briscoe. "Never before has the need for research, data and insights to build a solid foundation in marketing and communication strategies been greater. With the addition of MMGY TCI Research, we can increasingly do this on a global scale."
The addition of MMGY TCI Research brings the total number of MMGY Global employees to more than 550 worldwide and expands its office count to 12; Brussels and Paris join existing locations in Austin, Denver, Detroit, Kansas City, London, Los Angeles, Montreal, New York City, Washington, D.C., and Whistler.
Both offering more than 20 years of experience in the field, Olivier Henry-Biabaud and long-time partner Emmanuel Meunier will remain integral to the MMGY TCI Research brand. Henry-Biabaud will serve as Partner & Managing Director, and Meunier as Senior Vice President, of Europe.
"We are absolutely thrilled to join the MMGY Global family," said Henry-Biabaud. "While opportunities and complexities faced by the visitor economy accelerate the need for agile and holistic data intelligence, we are excited to continue working for the most competitive and sustainable destinations and travel brands. Through the MMGY Global investment in TCI Research, we bring our clients unrivaled research solutions that can connect the dots for their data-driven decision-making. It is also a great fit for a boutique company of international talents passionate about travel and data to team up with a large and respected global marketing firm that has always had data in its DNA."
An active member of both the Travel and Tourism Research Association and the Pacific Asia Travel Association, TCI's industry-leading research programs have received international honors, including a Global Business Insight Award and the prestigious Ulysses Award for Innovation from UNWTO.
MMGY TCI Research will work in collaboration with MMGY Travel Intelligence, MMGY Global's existing research brand, which recently opened an office in London.
"By partnering with TCI Research, we're aligning with a leading brand that is synonymous with data integrity while also expanding MMGY Global's presence and capabilities throughout Europe," said Chris Davidson, Executive Vice President of MMGY Travel Intelligence. "In addition, our existing clients within and outside Europe will now have access to TCI's proprietary research offerings for a more global and holistic point of view. We are very excited to work with Olivier, Emmanuel and their team to do great things on behalf of our clients."
Following two newly acquired brands in 2022 – Origin and Wagstaff Marketing – TCI Research is the 10th acquisition by MMGY Global in the seven years since private equity firm Peninsula Capital Partners made a significant equity investment in the company, propelling its global growth trajectory.
MMGY Global was advised on the transaction by Moore Corporate Finance on financial matters, as well as by Dentons Europe, LLP on Belgian/French legal matters and Foley & Lardner, LLP on U.S. legal matters. TCI Research was advised on the transaction by Guilmot & Bassine on legal matters and by Alerion Avocats on French tax matters.
About MMGY Global
MMGY Global is the world's leading integrated marketing firm specializing in the travel, hospitality, and entertainment industries. With operating brands across the world, the award-winning organization maintains a global communications practice in all marketing channels, serving many of the world's premier travel and tourism brands. As a company dedicated to the travel industry, MMGY Global strives to create a connected, inclusive, and peaceful world by promoting travel as a cultural bridge of understanding. For more information, visit mmgyglobal.com.
About MMGY Travel Intelligence
MMGY Travel Intelligence is MMGY Global's industry research and insights operating brand, offering proprietary data and research, including MMGY Global's Portrait of American Travelers® as well as DK Shifflet's TRAVEL PERFORMANCE/MonitorSM, which is composed of the largest continuous consumer travel database in the industry. The organization's services are designed to power travel industry decision-makers through consumer insights, travel performance data, and audience modeling and segmentation. To learn more about the extensive collection of research, analytics, and strategy services, visit mmgyintel.com or email us at [email protected].
About MMGY TCI Research
Serving more than 150 clients across five continents, MMGY TCI Research aids destinations and travel companies in measuring performance and identifying trends and data-based insights. By using standard and custom advanced research solutions based on conventional surveys and curated big data integration, the group helps brands stand out from their competition. For more information, visit tci-research.com.
Media Contacts:
Rainey Stoll
MMGY Global
[email protected]