April 21, 2024 - April 24, 2024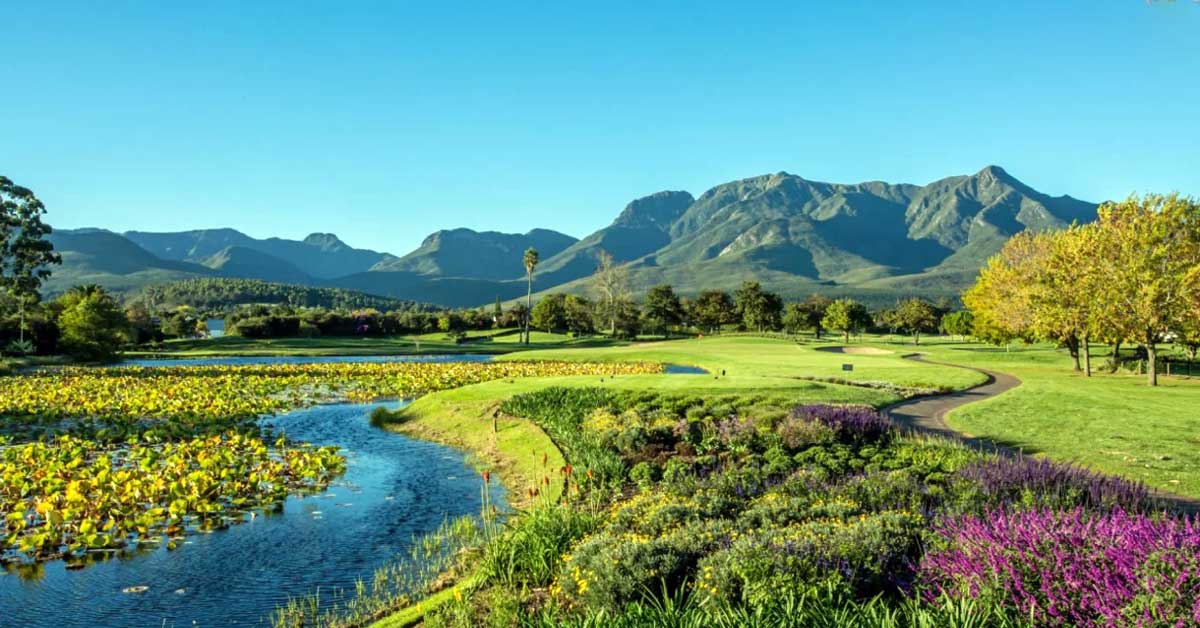 2024 TTRA Europe Annual Chapter Conference
Theme: Tourism Matters: Navigating Sustainable Futures
21-24 April 2024, George, South Africa
Unlock the Future of Sustainable Tourism with TTRA Europe: Join Us in Magical South Africa!
Embark on a journey of discovery at the forefront of tourism research and innovation with the Travel and Tourism Research Association (TTRA) Europe Chapter. Our flagship annual conference awaits, and this year, it's set against the breathtaking backdrop of South Africa—a destination that epitomizes the magic of travel.
Proudly presented in South Africa by North-West University Tourism Research in Economics, Environs and Society & The School of Tourism Management (website).
Why Attend?
In an age where the global tourism landscape is navigating unprecedented challenges, the fusion of pioneering academic insights and industry wisdom has never been more critical. At TTRA, we're committed to charting the course towards sustainable tourism futures. We recognize that the real power lies in uniting research trailblazers, each bringing a tapestry of experiences from across Europe, the Middle East, and Africa.
Where Innovation Meets Nature: The Garden Route Experience
Picture this: A spectacular venue nestled along South Africa's renowned Garden Route, providing an idyllic setting for knowledge enrichment, professional networking, and idea exchange. Here, against the backdrop of nature's wonders, you'll not only expand your understanding but also forge connections with like-minded professionals who share your passion for shaping the future of tourism.
Your Invitation Awaits
We extend a personal invitation to you to be part of this extraordinary event. Seize the opportunity to immerse yourself in a unique blend of academia and industry expertise, all while surrounded by the beauty of South Africa's landscapes. Together, let's collaborate to sculpt a more promising future for tourism—a future grounded in informed research and shared visions.
Why You Should Join Us
Gain insights from thought leaders shaping the future of tourism.
Expand your professional network in a relaxed, natural setting.
Share your expertise and engage with peers from diverse backgrounds.
Contribute to the collective effort of steering tourism towards sustainability.
Save the Dates:
21-24 April 2024
Location:
Fancourt Hotel, George, South Africa.
Fancourt, South Africa's premier lifestyle resort, is nestled in the heart of South Africa's Garden Route, 7 km from George Airport.
Visit the Fancourt Hotel website
Registration Fees:
Early Bird Registration (Until 4 March 2024):
Regular participants: R9000-00 (450€)
TTRA members: R7200-00 (360€)
Normal fees (After 4 March 2023):
Regular participants: R10 400-00 (520€)
TTRA members: R7200-00 (360€)
For more information, send us an email at: [email protected]
We look forward to seeing you in South Africa!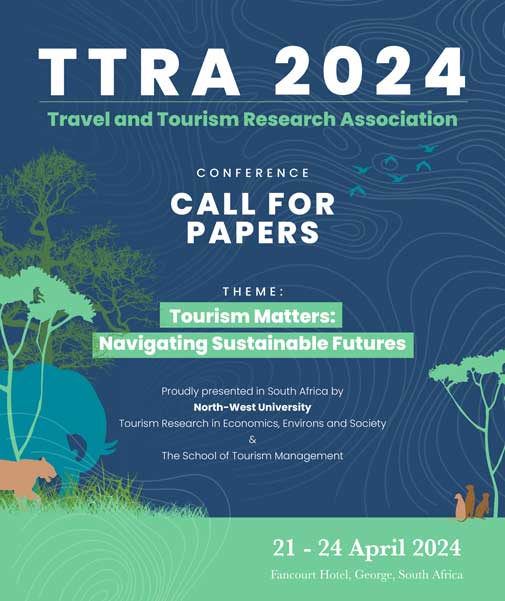 Download the call for papers in PDF format
Call For Papers:
You are invited to send submissions to the African TTRA Conference, which is jointly hosted by the School of Tourism Management and the Research Unit, Tourism Research in Economics, Environs and Society at the Fancourt Hotel (George) in South Africa
from the 21 – 24th of April 2024.
Submission Guidelines:
Competitive Papers (Full Paper): Maximum of 15 pages (including references)
Extended Abstracts: Maximum of 500-800 words (excluding references)
Visit the conference website for detailed submission information.
Conference Focus Areas:
Economic Impact

Explore the economic significance of tourism for local and global economies.
Assess the role of tourism in job creation and income generation.
Examine the link between tourism and economic development in different regions.



Cultural Exchange and Heritage Preservation

Highlight how tourism fosters cultural exchange and appreciation.
Discuss strategies for preserving cultural heritage while promoting tourism.
Showcase case studies on successful cultural tourism initiatives.




Environmental Sustainability

Address challenges and solutions for sustainable tourism practices.
Promote eco-friendly tourism and conservation efforts.
Showcase destinations prioritizing environmental sustainability.




Community Empowerment

Explore how tourism can empower local communities.
Discuss community-based tourism initiatives and their impact.
Propose strategies to ensure tourism benefits all stakeholders, including residents.




Innovation and Technology in Tourism

Highlight the role of technology in shaping the future of tourism.
Discuss trends like virtual reality, AI, smart tourism, etc.
Showcase case studies on innovative tourism businesses and practices.




Resilience and Recovery

Address the impact of crises (e.g., pandemics, natural disasters) on tourism.
Discuss strategies for building resilient tourism industries and communities.
Share lessons learned from past crises and their relevance today.




Tourism Ethics and Responsibility

Explore ethical considerations in tourism, such as overtourism and cultural sensitivity.
Discuss responsible and sustainable tourism practices with reference to supply and demand.
Encourage responsible tourism behavior for the future.




Policy and Regulation

Analyze government policies and regulations affecting tourism.
Focus on the need for balanced and adaptive tourism policies.
Advocate for collaboration between governments, businesses, and communities for effective regulation.




Tourism Education and Research

Emphasize the role of academia in advancing tourism studies.
Showcase research findings contributing to the understanding of tourism's impact.
Encourage interdisciplinary research in tourism studies.




The Future of Tourism

Explore the future of tourism in a rapidly changing world.
Identify emerging trends and potential disruptors in the tourism industry.
Encourage forward-thinking and innovation in tourism practices.


Join us in shaping the future of sustainable tourism! Your insights matter.